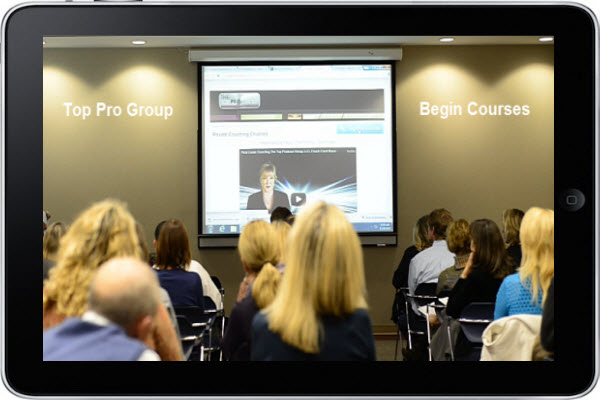 Click Image To Access Top Pro Training
 

Real Estate Training | Education Center | Instructions
Step 1.  Always log in & please remember to log out. Contact Lisa in Support weekdays.
Step 2.  Click the photo above to enter our Top Pro Secrets Private Coaching Channel.
Step 3.  Print your Business Plan and watch video then check off the systems you have.
Step 4.  Find matching real estate training docs in the right side menu [Step 3] or search bar.
Step 5.  Add Group Coaching calls and access code every other Thursday to your calendar.
Step 6.  Join us for Workshop Wednesday's at Noon using the access code above.
Step 7.  Access all 10 Real Estate Courses (also in Step 2) on right. Start with [101].
Step 8.  Get helpful reminders to check back for new training choose your email settings.
Step 9.  Post your Goal for the week in Our Top Pro Facebook Community Mastermind.
Step 10. Tweet to us @carolmazur with hashtag #topprogroup.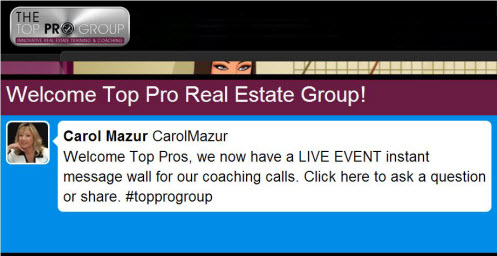 It used to take years for top producers to grow a successful business. Not any more. We hope to  help you create systems for your real estate business to live a happy balanced life .  We value your time and have utilized the latest technology to make  our real estate training and group coaching as efficient as possible. Our high tech systems and tips from caring top producers help you get to the top quicker than ever!
Find the Easy Real Estate Training Menu on the right.  Watch up to 7 minute video coaching ACTIONARS® in our private video area, and attend innovative live events to implement proven top pro systems and marketing ideas.
Ten step systems are clicks away on the right in the training docs section to help you succeed, step by step. Listen to live recordings, attend group coaching streaming events, view PDFs or audio recordings, and attend live group coaching calls to bring quick results. Real estate tips, ideas, technology and scripts are all organized by category. This is the most interactive real estate training site you will find.
Have questions?  Get real life answers from peers who have "been there" by starting a live video chat or post a question to your coach or others by topic in our mastermind forum. Or, simply contact Lisa in support. You can even visit our  "Do it 4 Me" approved real estate partners page.
Nothing is introduced into Top Pro Training unless it is proven to work by current real estate top producers!
Best of all Coach Carol is here during the week to help you work hard so that you too can live a life of ease. Agents can upload confidential accomplishments directly to Coach Carol without leaving the site, practice scripts together in video script practice meeting rooms and even take part in a live twitter blog. It's easy, you can do it!
"A leading real estate training company said I could not  double my production in one year.  Thankfully, I chose Top Pro Training  with Coach Carol Mazur and I tripled my production in 8 months."  – Jennifer Bullock Realtor, CBSCA Wilmington – NC
Real Estate Training  – Real Estate Training Education Center for 50 Sales – Real Estate Training – Real Estate Systems Training – Top Pro Training Center for the Top Pro Group™ – Coach Carol Mazur Real Estate Training
 Thank you to the generous top pros who have graciously contributed real estate systems that work.
Copyright © 2011   Top Pro Training™ –  The Top Producer Group –  All Rights Reserved
 Real Estate Training to become a real estate Top Pro!