Real Estate Systems Training and Coaching
Real Estate Systems Training + Coaching Courses
                     
     

 

Top Pro Certified Real Estate Training Expert
Actionar® Courses 101 – 510
Top Pro Certified Real Estate Training Expert
Actionar® Courses 601 – 1010
     
             
Take Your Business to the Next Level Effortlessly
Choose One Real Estate Course to Add 5 sales

.


Complete Steps on All 10 Courses to Reach 50 Sales.




Take Advantage of Top Pro Group Discounts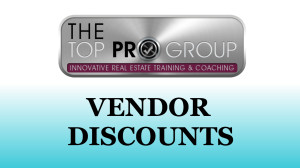 Life Balance
Business Planning  
Time Management
Automation  
                    
PRIVATE COACHING CALLS + REAL ESTATE COURSES
Step 1.  Always login & please remember to log out. Contact Support weekdays.
Step 2.  Click the Course Buttons above to Take Courses. Visit FB Mastermind. 
Step 3.  Print your Business Plan and watch video then check off the systems you have.
Step 4.  Find matching real estate training docs right on each step or search bar.
Step 5.  Add Live Coaching Calls and access code to your calendar if participating.
Step 6.  Ask questions anytime via Support, Facebook, & Twitter @carolmazur.
Step 7.  Complete Coaching Courses & Videos. Start with Goals and Google 101.

Step 8.  Get helpful reminders to check back for new training choose your email settings .
Step 9.  Post your Goal for the week in Our Top Pro Facebook Community Mastermind.
Step 10. Tweet to us @carolmazur or to the group with hashtag #topprogroup.
.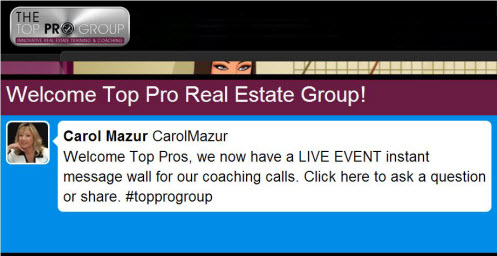 ONLINE REAL ESTATE COURSES
Follow

@Carol Mazur

On Twitter for Q & A
Real Estate Systems Training and Coaching 
Real Estate Lead Generation & Real Estate Lead Conversion Training Courses